Indoor Air Quality in Hillsboro, OH
Give us a call today: 937-466-2755
We want all our customers to enjoy the best comfort and health in their homes. Often, that means helping them with their indoor air quality (IAQ). We offer several IAQ services, including improvements to air duct quality, installation of air purifiers and air filters, and indoor air quality system maintenance.
Family-owned & operated since 1985
We deliver superior service with an unmatched client experience
We never accept past performance as good enough
To find out more about what we can do to improve your home's indoor air quality, talk to our friendly professionals. We aim to provide world-class service on every job.
You are just one call away from the comfort and savings you deserve!
[READ MORE +]
Indoor Air Quality System Installation
Why do you need to have our team install indoor air quality systems for your home in Hillsboro, OH? According to the Environmental Protection Agency, the air inside your home can be 2 to 10 times worse than the outside air. It's difficult for our immune system to keep up with the abundance of particles, germs, and gasses that are locked inside the tight, energy-efficient homes that are built with today's construction methods.
According to the EPA: "Accumulated debris can restrict the airflow in your air ducts, making your system work harder to heat and cool your home. A build-up of .042 (1/20) inches of dirt on the heating or cooling coil can result in a decrease in efficiency of 21% increasing your monthly utility and fuel bills."
According to Harvard University Silent Spring Institute Study: 100% of homes tested had toxic compounds including pesticides, cleaning compounds, chemicals found in furniture and building materials, that can be the cause of asthma, allergies, and other ailments.
According to the American College of Allergists: 50% of all illnesses are either caused by, or aggravated by, polluted indoor air.
According to Texas A&M: 1/8" of an inch of dirt and dust build up on the blower wheel can reduce the airflow by up to 30%.
SolaceAir Air Cleaners trap 97% of particles at .3 microns and continue trapping particles much smaller in size. For reference, the eye of a needle is approximately 1,230 microns in diameter.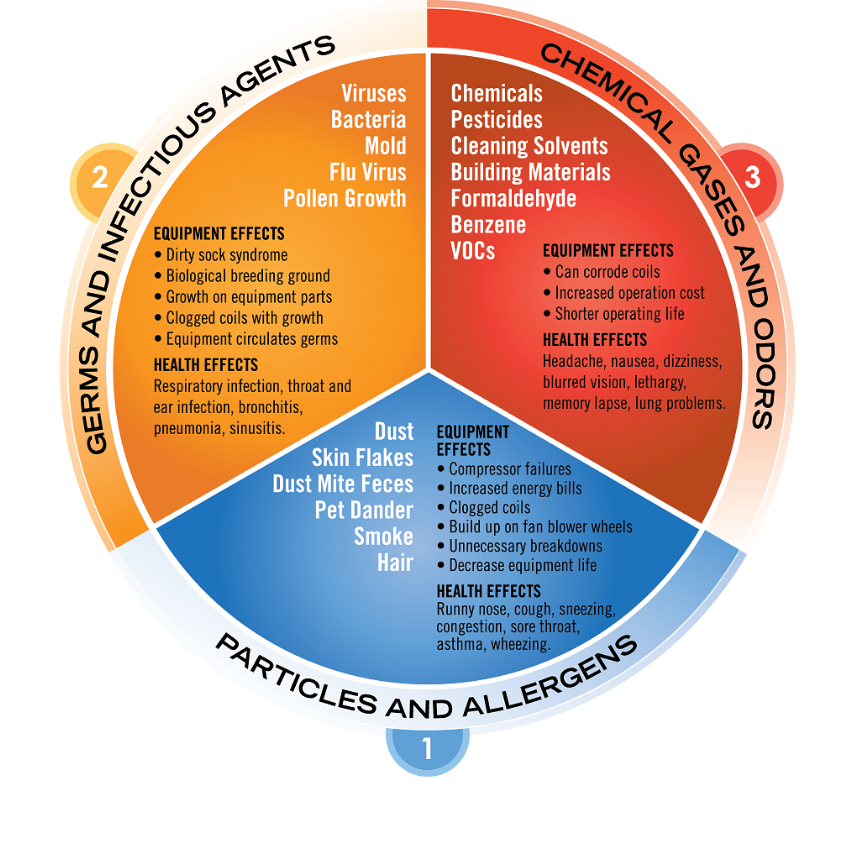 Indoor Air Quality System Replacement
We can replace any of the different IAQ systems we install. Here's a list of some of the IAQ systems and services we work with:
Air Filtration Systems and Air Purifiers
Humidifiers and Dehumidifiers
Heat and Energy Recovery Ventilators
Zone Control Systems
Indoor Air Quality System Repair
If you have a faulty air purification system, broken dehumidifier, or other IAQ device that isn't doing the job it should, reach out to Shafer Heating & Cooling, LLC in Hillsboro, OH. We offer same-day service to get your IAQ