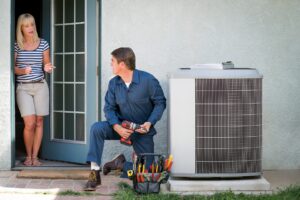 Fall is just around the corner and soon you'll be turning your air conditioner off until spring time. But before you do that, there are a few steps that you can take to make sure that your AC is ready for hibernation. In fact, completing the steps now is the best way to ensure that your air conditioner is ready to call your home again when spring time does roll back around. 
Call us today to schedule service for your AC in Hillsboro, Ohio. You can also keep reading to learn more about things you can do for your air conditioner before turning it off and switching over to heating your home.
Regular Maintenance
First, you can complete some of your regular homeowner maintenance steps that you already complete every single month. Change out the air filter to a new one instead of leaving a dirty one in place. Rinse out the condensate drain line one last time with vinegar to prevent mold and mildew from developing in the line. Hose off your outdoor unit to eliminate any dust and dirt from sitting over the fall and winter months and really setting into the unit.
Clean Up
Another step you can take is to clean the air vents around your home. It's perfectly normal for some dust and dirt to get into your HVAC system and blow through your home. It may ultimately settle on the backside of your vents. It's a great idea to go ahead and unscrew each vent and clean them now so you can start spring fresh and clean.
Overall Inspection
And then you want to complete a general inspection of your air conditioner, both inside and outside. Look for any obvious signs of damage. If there's damage anywhere on the outside of your air conditioner, there may also be damage on the inside. If anything raises red flags, like loose connections or dents, give our team a call to schedule a service appointment. Even if you already scheduled AC service this year, it's always better to be safe than sorry. Putting the appointment off until spring could mean that a problem worsens or your air conditioner won't turn on at all.
Professional Maintenance
If you haven't already scheduled AC maintenance this year, it's even more important that you do so. This annual appointment is our opportunity to check your unit inside and out for any signs of problems. Often times small components will begin to wear down.
Ideally, you want to replace those components before they break completely. For example, you may have a loose fan belt that is not yet causing any problems. However, it's only going to get looser as time passes by. By replacing it now, you circumvent any future problems that might arise if the belt snaps off and your AC stops working completely.
We can also assess your ductwork during this appointment. You should have your ducts cleaned every three to five years, and an annual inspection helps us to keep tabs on when you need to schedule that service. If it's getting close to time, you can go ahead and plan ahead for scheduling a duct cleaning appointment for next year.
Shafer Heating & Cooling, LLC: You are just one call away from the comfort and savings you deserve!