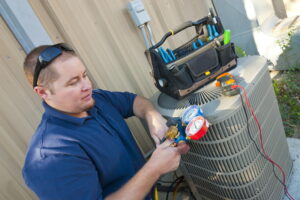 The idea of celebrating the start of spring with air conditioning maintenance may sound a little bit less than thrilling. Not much of a party. But we don't see it that way. Think of it like this: you're getting your home's air conditioning the cleaning and attention it needs to get it to go to work for you during the fun days of summer. Maybe not as joyous an event as pulling out the boxes of holiday decorations in November, but in the same spirit.
We hope framing it this way makes it easier for you to remember to schedule air conditioning maintenance in Hillsboro, OH, because this is an essential service to ensure you enjoy the best, most reliable, and most cost-effective performance from your cooling system.
We'll go over the ways you benefit from having your AC regularly inspected and tuned-up during spring.
Help prevent sudden breakdowns
It's the hottest day of summer and you've got the air conditioner whirring away to keep the house comfortable. Then, abruptly, the whirring stops, as does the cool air from the vents. Oh no, you've got a broken AC!
Although there's no way to stop all breakdowns, regular maintenance is the best way to stop most of them. After your AC has gotten its spring tune-up and inspection, it will head into the summer with the best chance of working without interruption. The peace of mind alone is worth the cost.
Prevent the majority of repair problems
Maintenance doesn't just stop big AC failures. It stops most smaller malfunctions as well. In fact, the majority of repairs that an AC may need during its service life are due to maintenance neglect. That means you can banish more than 50% of future repair calls thanks to staying current with maintenance each year.
Give the air conditioner a longer service life
A central air conditioning system will last for 10 to 15 years on average. That estimate includes maintenance. When an AC doesn't have routine professional maintenance, its service life estimate will begin to drop. It may even be cut in half. You'll get the best return on your investment in your air conditioning system when you have it properly cared for each spring.
Lower the cost to run the air conditioner
Maintenance helps to reduce the wear and tear an AC suffers from each year. If this stress is allowed to accumulate, it will adversely affect the air conditioner's energy efficiency, causing it to consume more power to run and raising utility bills. If you have maintenance done each year, you can expect your AC to retain 95% of its original energy efficiency rating almost until the end of its service life—and your bills will stay steady and not continue to rise.
Protect the warranty
You might not have known this, but for most air conditioners' warranties to stay valid, they must have proof of regular maintenance. Skipping maintenance might void the warranty on your AC and leave you stuck paying for a repair the warranty would have covered.
Call our team today to join our maintenance club and get on the spring schedule.
Rely on Shafer Heating & Cooling, LLC: You are just one call away from the comfort and savings you deserve!