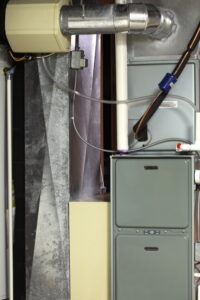 Your home must have a heating system in it to help you get through our long winters. Just piling on blankets or using a space heater isn't enough for Ohio winter weather. But because central heating systems are expensive, you'll want to keep using your current one for as long as possible. When you run into trouble with your heater, you can always call our technicians to come out and have it repaired.
But at what point do repairs become more expensive than going ahead with a new heating installation in Hillsboro, OH? No heating system will last forever, and continuing to patch up a decrepit older one will eventually become a waste of money, a major inconvenience, and even a safety hazard.
Let's put a magnifying glass on the question of heating system repairs and the point where they're no longer a good investment—both in terms of money, comfort, and safety.
The "Old Age" of a Heating System
All heating systems come with a manufacturer's estimated service life: the number of effective and energy-efficient years you can expect from the heater when it's properly maintained. (Without maintenance, the life expectancy will drop drastically.) These estimates vary from heater type:
Gas furnace: 15 years
Electric furnace: 20 years
Boiler: 20–30 years
Heat Pump: 10–15 years
These numbers aren't hard and fast, but they do come from years of data. You don't necessarily have to replace your heating system when it passes its life estimate, but we strongly recommend you pay close attention to the frequency and cost of repairs at that point, as they can warn you when a heater is entering its final decline.
Repair Frequency
You probably didn't need to have your heating system repaired at all during the first 5 to 10 years of its life. (Again, provided you had it routinely maintained.) A heater in the second half of its service life will have a higher chance of repairs, but any effective repair should at least keep the heater running effectively for several more years. Needing repairs every year is too often, and it means sinking too much money into pushing the heater along rather than investing in a replacement.
Repair Cost
When technicians come to repair your heating system, they'll give you a quote for the price. You can use this quote to determine if the cost is too much. A good rule of thumb is the "Rule of 5,000." Multiply the age of the heating system by the quote for the repair. If the result is greater than 5,000, the repair is too expensive. E.g. a $500 repair for a 12-year-old heater (500 x 12 = 6,000) would be too costly.
Professional Advice
The best way to decide if a heating system needs a replacement rather than further repairs is to consult with an HVAC pro you trust. Our technicians can examine your heater and give you an honest assessment of whether repairs will give it several more years of energy-efficient performance or if it's time to replace it. We back all our work with a 100% satisfaction guarantee—we want to ensure you're happy!
Shafer Heating & Cooling, LLC: You are just one call away from the comfort and savings you deserve!