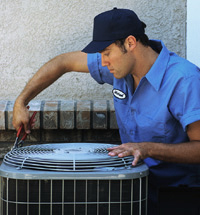 There is no question about it. AC installation is a major project. Not only can it be expensive, but it can also take nearly a full day's work to complete an installation, depending on the difficulty of the job. If you are thinking about an AC installation or already have one scheduled, you may be wondering what to expect.
The good news is, our team are experts at AC installation in Hillsboro, OH. Below we are highlighting an overview of what you can expect during AC installation, including factors that can make AC installation take longer. Keep reading to learn more about the process of installing a new air conditioner, so you know what to expect when your installation day arrives.
Taking Out Your Old Unit
Before we can install a new air conditioner, we have to take out your old one. During this process, we also do a lot of cleaning up. Since your existing AC could have easily been in your home for 15 to 20 years, our team takes care in wiping everything down and making sure your new air conditioner has a completely fresh start.
If the indoor portion of your unit is up off of the ground on a platform, like inside of a closet, we will make sure that the existing platform is still sturdy. If not, we may replace the plywood with a new piece. We will also review all of the connections that lead into your air conditioner and make sure that those are in excellent working condition. Examples include electrical wires and gas lines.
We can also replace some or all of your ductwork if needed. Many times, the ductwork in your home can last longer than your air conditioning unit. But most ductwork needs to be replaced around the 25 year mark. Keep in mind that we will talk to you about all of these steps during our initial assessment. Before we ever arrive at your home, you will have an idea of what to expect as far as components that we are able to keep and reuse, and things that we need to replace.
Installing Your New AC
Once everything is cleared out and ready to go, we can begin installing your new air conditioner. The most tedious part of this is making sure that all of the connections are just right and that the system is airtight and correctly pressurized. We have to make sure that your air conditioner will pass inspection, since AC installation requires certified professionals.
Our team usually spends about an hour of the installation process testing your new unit and making tweaks to improve efficiency and operation. Even though you probably know how to work an air conditioner, we can also offer tips for how you can maximize your new air conditioner's efficiency by how you use and maintain the system.
The entire installation process can take anywhere from 4 to 8 hours. This includes everything from taking out your old unit to testing and teaching you how to use your new AC.
Shafer Heating & Cooling, LLC: You are just one call away from the comfort and savings you deserve!